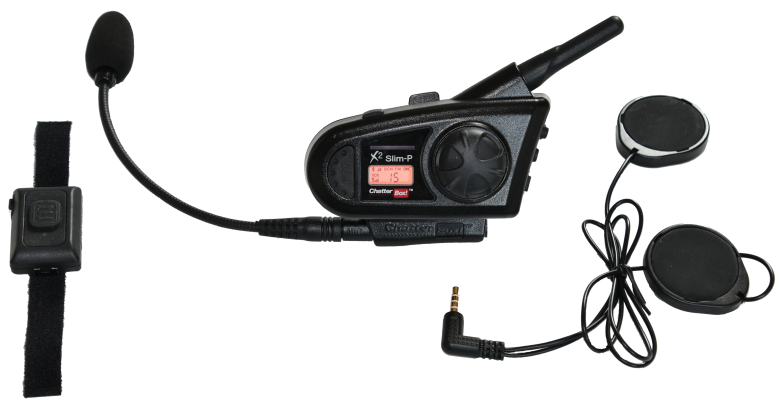 Chatterbox X2 Slim 2-way radio and Bluetooth unit
Chatterbox X2 Slim 2-way radio and Bluetooth unit is a totally new concept in motorcycle communications.
It looks like a Bluetooth unit, but is actually a 2-way radio and Bluetooth combined into a single package.
The unit can be used with helmet speakers or you can connect in-ear "monitor" speakers.
The microphone is fixed to the mounting bracket, making it much easier to fit and totally suitable for full, flip and open face helmets.
The Bluetooth is for connection to your phone / sat-nav or to a pillion using another Bluetooth headset that has "Universal Pairing" such as our T94. Is is a single channel Bluetooth so it cannot connect to multiple devices at the same time.
The 2-way radio can be controlled by VOX (the unit bleeps when it starts and stops the VOX so you always know when you are transmitting) or the included Bluetooth wireless PTT button that fits easily and securely to your clutch grip with a Velcro strap.
For professional users wanting to use one of our wired PTT switches, there is a connection available in the unit for a wired PTT.
Bike to bike communication is made via the 2-way radio, so the advantages over Bluetooth systems are:
*Unlimited connections to other riders.
*Massive range of up to 3 miles.
*No "line of sight" restrictions (Bluetooth will cut out when there are objects or terrain between the riders)
*Compatibility – As long as you are on the same channel, you can talk to any other radio.
For group riding:
This is the perfect solution. Any rider can connect with any make or model of 2-way radio.
Riders can swap positions within the group and stay connected.
Massive signal range between riders of up to 3 miles (conditions dependent)
For instructors:
You can use VOX, a wireless PTT or a wired PTT for whichever style suits you.
Link to normal 2-way radios for your students.
No Bluetooth dropping-out or re-connection issues.
For Tour Guides:
Consistent connection between leader and tail end rider.
Guests can "listen-in" to commentary with a simple, cheap 2-way radio and earpiece.
The Chatterbox X2 Slim comes complete with:
Main unit
Mounting bracket
Boom microphone
Microphone on a fly lead (for full face helmets)
Helmet speakers
USB charging lead
Weight: 94 grammes